Lithuania wood houses producers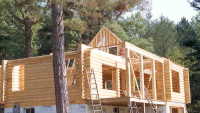 Woodhauses.eu are a Lithuanian company with long-term experience in producing log houses and perfectly combining old traditions of craftsmen and new technologies. We use the best materials for the production, therefore, we guarantee high quality and reasonable price. We are at your disposal in helping you to implement a woodhouse construction project starting with the development of the idea till its complete implementation.
We can design individual wooden houses meeting your needs or design a quarter of residential wooden houses or recreation complex. You can also choose any house from our catalogue of house designs. Our experience shows that 90% of people prefer individually designed houses, tailored to a particular area and meeting the needs of a particular customer.
Our products meet the highest quality requirements. Wooden houses are built from Northern pine. Only dried timber is used. Manufacturing process is in compliance with processing and strict quality requirements. Wooden houses are built using the state-of-the-art manufacturing techniques.
Most manufacturing works are done in our factory. Finished structures are delivered to the site where they are assembled in a few days. Basing on your needs, we can build a house from the foundation to the roof, interior installations including. Or we can deliver and assemble only wooden structures of the house, or deliver you wooden structures and you can have them assembled by your workers under the guidance and supervision of our experts.
We can put all your dreams to life. We are reliable woodhouse construction partners.